Marriage in the wedding paradise
Cyprus
- the island of love

Legal – Absolutely unbureaucratic – Recognized worldwide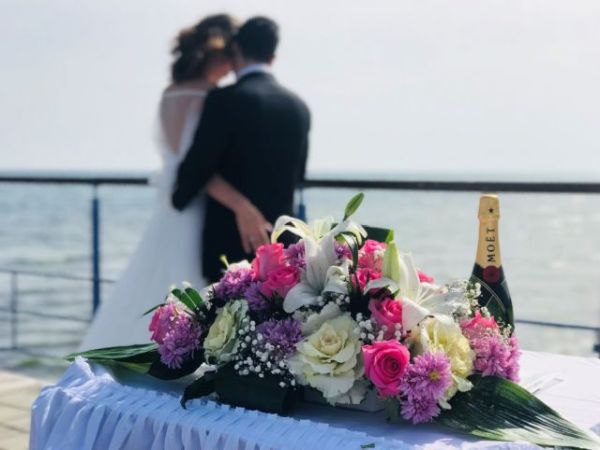 Wedding Agency KARINA® - the competent advisor for your wedding in Denmark, Cyprus, Gibraltar, and Hong Kong
The solution not only for bi-national couples whose documents no longer
suffice for a wedding in Denmark
Who can get married in Cyprus?
Attention! People with a residence permit for a Schengen state do not need an extra visa to travel to Cyprus! Russian citizen tracel visa-free!

Even people from these countries do not need a visa:
 Argentina / Brazil / Colombia / Mexico / Russian Federation / Ukraine - Venezuela
etc.
Please find the visa-free countries here:
Flight information - COVID-19:

In Cyprus, we offer weddings with only one or two overnight stays and witnesses for free.

Please note: At a wedding in Cyprus the surnames can not be changed. On request, the registry office issues a certificate of consent for a name change. This certificate must be submitted within 3 months of your wedding day to the authorities of your home country or to a consulate / embassy of your home country in your country of residence.
The wedding ceremony:
The language of the ceremony is English or Greek and the witnesses are for free. If you do not understand English or Greek, you need an interpreter (price: about 70, - €). Own witnesses may also translate.


Legalization / Apostille:
In most countries, you will need an Apostille-legalized marriage certificate to register your marriage.

Please note: You will receive the two marriage certificates immediately after the ceremony and the Apostille usually at the same day.
Documents:
Please send in color scanned copies of these documents by e-mail:

  1. Passport or ID card for citizens of a Schengen Member State
If you come from a visa-free country: passport; Entry stamp * for Cyprus (* if already available)
or
a valid Schengen multiple-entry visa if you are from a country whose citizens require a visa to enter Cyprus

or

a valid residence permit for a Schengen state (or a residence permit valid for Bulgaria, Croatia or Romania)

2. A certificate of marital status or an affidavit, which may not be older than 3 months on the day of your wedding, with a certified translation into English

(Please contact us for country-specific information as proof of marital status.)
3. If divorced or widowed: final divorce decree / divorce certificate or death certificate; if not issued in English, with a certified translation
Translators worldwide - Link
Sworn translators in Cyprus - Link
Authentication/legalization of your documents:
NEW: Documents from EU countries no longer need to be legalized with Apostilles.
Certificates of marital/family status and divorce decrees / death certificates must be submitted in legalized form: either with an apostille or legalized by the Ministry of Interior/of Justice, the Ministry of Foreign Affairs and the Consulate of Cyprus in the issuing country.
Please find here a list with Cypriot Embassies and Consulates worldwide:
Consulates - Link

List of the Apostill countries:
Apostille-Den Haag - Link

The registry offices in Cyprus:

Weddings take place from Monday to Friday. Personal registration with original documents and translations must be done the day before the wedding in the morning.
Weddings usually take place inside the registry office, but other venues are possible as well (also open-air and beach weddings). Depending on the location, additional fees may be charged.


Please write us an E-Mail to
This email address is being protected from spambots. You need JavaScript enabled to view it.
or call us:
+49 30 756 50 185
Mobile and WhatsApp +49 163 439 19 83
German, English, Russian, and Portuguese (also What´sApp): +49 1573 346 77 84